Osberto is a native Spanish speaker with over 22 years experience teaching Spanish as a second language. He has been teaching online for over 11 years and has students all over the world.
Whether you are just starting or are trying to perfect your skills,  he can provide one on one tutoring in an immersion environment which is the most effective way to learn.
The course will be customized for you and the topics which you are interested in such as travel, medicine, economics, business, social work, international relations, literature, history, culture, etc..
Osberto has worked with  students from universities such as Duke, Yale, Boston College, Denison, Marist etc. and can help augment your school experience.  He is trained to work with students of all levels.  In each class, based on the your needs and desires,  he will work with you on improving your grammar, pronunciation, vocabulary, reading, and listening comprehension.
He has also worked with customers from various business and other organizations such as The World Bank, Nextel International, Telescape, and Faith in Practice, but many of his students are just individuals who want to learn a new language in a dynamic and fun way.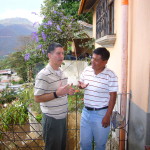 In addition to his role as a teacher of international students, Osberto is active in his local community and is the manager of a local non-profit cooperative the CDSL.